Parasram Nagar school gets pupils from pvt institutes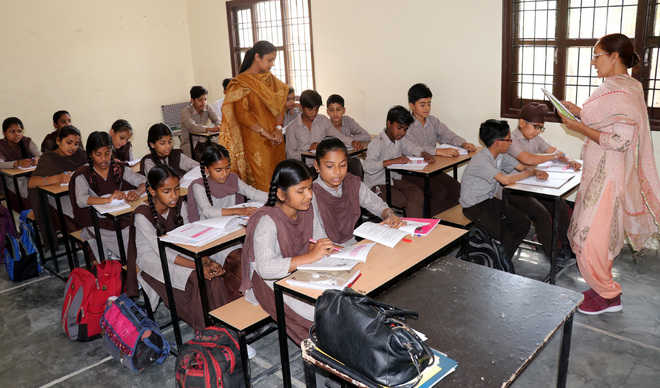 Sameer Singh
Tribune News Service
Bathinda, April 5
The lone English-medium Government Senior Secondary School at Parasram Nagar in the city has been attracting a sizeable number of students from prestigious private and convent schools.
On Thursday morning, Jasleen Kaur accompanied her two children to get them admitted to the school. Her daughter and son were studying at one of the prestigious convent schools in the city, where parents from strong financial background vie to get their children admitted.
Talking to Bathinda Tribune, Jasleen said, "Apart from quality education, budget was the biggest factor that changed my mind. We were paying more than Rs 3 lakh annually in the name of getting good quality education for our kids. But when we came to know about this smart government school, where emphasis is on activity-based or practical learning, we immediately decided to approach the principal for admission."
Rohin Verma, aother parent, said "If there is a government school in our city that offers studies in English medium then why not avail the opportunity? Especially when there is barely any difference in syllabus but a huge difference in the fee structure. The curriculum is more or less the same. There is a huge difference between paying Rs 30,000 at a private school and Rs 550 at a government school, especially when both the schools offer somewhat a similar standard or medium of education."
Mandeep Kaur, principal of Government Senior Secondary School, Parasram Nagar, said, "Of the total admissions (continuing) in the current academic session, approximately 20 per cent students have shifted from prominent private schools in the district. Being the only English-medium government school, a number of parents have been approaching us for admissions. Apart from practical and activity-based learning, students are exposed to live experimentation for better comprehension of concepts during science and math fairs, organised at regular intervals. We are hopeful that admissions would also increase in the current academic session."
The government school has a strength of 1,189 and runs morning and evening shifts.
["source=tribuneindia"]